Week 15 – I think I'm getting the hang of this….maybe…
This week wasn't without its challenges, but I didn't have as many technical difficulties as I did last week!
I actually do have my online students take surveys and I am familiar with Survey Monkey. However, when I have my online students participate in surveys, I build them directly into Blackboard using the Survey tool there. I like how when I create a survey directly in Blackboard, it is linked automatically to the Grade Center. I don't grade my students on surveys, but it will provide a "check mark" in Grade Center to show which students have taken the survey.
I also recently attended a conference on "Teaching the 21st Century Student" where Jim Sullivan showed us how to use Poll Everywhere. This wouldn't work great in an online setting, but I have used it in my Face-to-Face class and it is very simple to use! Here's a survey I created for my Face-to-Face class after we talked about Stress Management….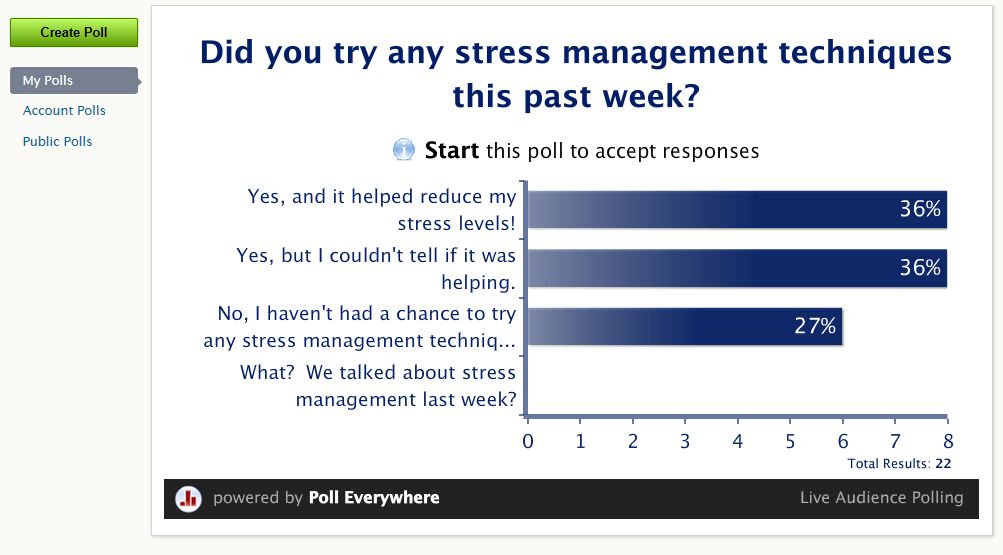 I'm pleased to say that everyone at least knew that we'd talked about Stree Management the previous week!
I've also used Screencast-o-Matic before thanks to a FLEX workshop I attended at the beginning of the semester.  This too, is pretty user friendly and I have used this program in my Blackboard class this semester.
Here's my Screencast of the Mind Map I made on the Six Dimensions of Wellness – something we talk about early on in the semester.  Enjoy!