This week we had quite a few things to do. I started by exploring the Free eBooks which seemed quite interesting to me. I found many books I could use for future classes. I am very excited to have a new resources. The suggested books varied from Grammar to Literature so I can see many levels of French that could use the books they list.
The second website, Open Textbooks offered only one true resource, "Français Interactif", which I actually already knew of. I have used some of the exercises from Français Interactif to supplement my classes. I didn't know, however, they have so many PDFs.
The Internet Archive is a chestfull of useful information, tools and resources. When I was in school, we'd go to the school library or a public library (see picture below of the public library I'd go to in my hometown of Nîmes, France):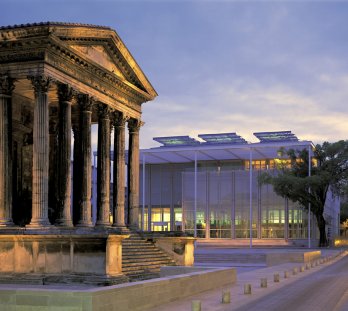 Nowadays, a computer will suffice to find almost anything we want via the Internet. How times have changed–and so quickly! What I liked about the Internet Archive website was the various content one could look for. I searched for "French" and found various tools–from audio to videos to handouts! Very interesting!

I love where I work!!! MiraCosta College has so many resources .The Library has various tools. It's pretty easy to browse through as well.
I also read our textbook's (Ko and Rossen) Chapter 8: Copyright, Intellectual Property, and Open Educational Resources which I enjoyed. I was very intrigued reading about student plagiarism. I haven't had much of a problem with this in my classes but I have occasionally had a student "borrow" someone else's work. It is difficult to know if a student does this knowingly and purposely or not.