This week my computer broke down. Yay! I usually grade students' homework/quizzes, etc. within a week and now it took me two weeks to grade their work because my computer was out to be repaired. I had to re-install everything so what a huge amount of time I spent on just getting "set up" all over again. It reminded me that our online students might have problems with their computers too and we must be willing to work with them if/when these problems can occur.
So anyway, here's my week's post:
This week we learned how to best manage our classroom and create harmony in an online class.
This week we had to:
Read: Ko & Rossen, Chapter 11: Classroom Management and Facilitation, pp. 318-end and Chapter 12: Special Issues if you wish. 
Points: Student activities and participation, tips for synchronous and asynchronous discussions, team teaching / privacy, identity, noisy/quiet./disruptive student behaviors.
Read: Lisa M Lane, Insidious Pedagogy (2009)
Read: Jennifer Demski, Rebuilding the LMS for the 21st Century (2012)
See Joyce Seitzinger's Moodle Tool Guide (2010), an example of an LMS critique based on pedagogical goals
A few things I gathered from our readings…
Chapter 12 of our textbook discussed Classroom Management and the Special Issues which differ from a class taught on campus. Two main topics discussed were student behavior problems and privacy concerns.
Over the years I have created many handouts I distribute to students. They go along with whatever we are learning in our textbook. Students have told me they really enjoy the handouts I give them. I usually make them accessible on Blackboard and students can open, download and/or print them out. I project them in the classroom on our projector as well. Some of the handouts I get from different websites while others are entirely my own. I ask my students to use them to learn French (the subject I predominately teach) but not to share with others who aren't enrolled in our course.
Here's an example of one of my handouts: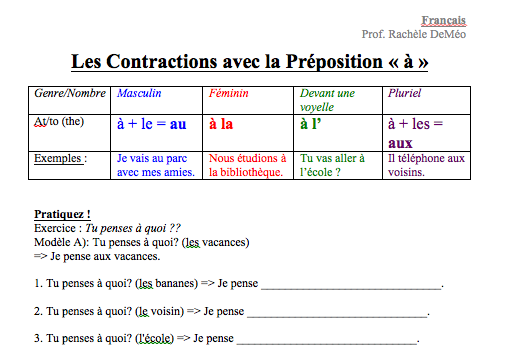 The textbook didn't only mention privacy in terms of what we distribute to our students, as instructors but also on what we share about our personal life. I tend to keep my personal and professional life separate. However, I am personable with my students by taking interest in their hobbies, family life, etc. I also share a little bit about what I enjoy doing during my free time such as spending time with my family.
Chapter 12 focused a lot on how to manage student behavior online. Having complete one of my two Master degrees completely online, I remember noticing different student issues such as students being "domineering" and trying to control all the posts on the Discussion Board. I liked the advice given on redirecting the "conversation" to the original topic and sharing ideas respectfully.
I liked what Lisa wrote in the article Insidious Pedagogy (2009): "It's important to make a distinction between a teacher experienced in instruction, and one experienced in using the Web to instruct." I can relate to that because in languages it's similar. One can speak a language but teaching it is a complete different ball game. Some of my childhood friends from France sometimes tell me they couldn't explain principles in the French language (even if they speak it fluently). Knowing something and knowing how to teach it, is very different. Having access to sites such as Blackboard is useful but we must plug in the appropriate content organized in a way that is easy and simple enough for students to figure out. That can be challenging and I believe through trial and error we learn to best organize our work. I like using Blackboard for my blended class (and would for an online course as well). I have seen professors also have their own websites. I haven't figured out how they limit content so only students can see/have access to the class (I have a website but haven't used it to for the classes I teach).
I like the idea of students helping build the content, as mentionned in the article Rebuilding the LMS for the 21st Century (2012): "Taking the idea one step further, faculty at the college wanted the ability to build projects over many years, allowing students to add to the work of those who've taken the seminar before them." Every semester I listen to students' feedback about how I organize my Blackboard. I listen to their comments and suggestions.
I liked the poster-size of the Moodle Tool Guide (2010). I found it very useful and even printed a copy to keep in my office.
Finally, here is my screen-cast video on using different tools online. I experimented with VideoThread and also showed how to create assignments in Blackboard. The video could have been hours in length since there are so many tools one can incorporate but I limited it to just six minutes:
 Have a great weekend everyone!