Hi Everyone!
Blackboard
I have had a love/hate relationship for the last ten years with Blackboard (Bb). On one hand Instructional Technologies Services at SDSU have used my Blackboard sites examples of how to set up a class on Bb, as well as have me come in to demo some of the things I do on Bb to other professors. On the other hand, I find Bb clunky and limited like a 1997 website. Over the years, I have figured out (with a help from others and on my one) many workarounds to do what I wanted to do.
Adopting New Technology
Warnock's Guideline 9 states "Don't be more complicated technologically than you have to be' (19). I am pretty good at just trying out on thing at a time. For example, a couple of semesters ago when I started teaching online, I reluctantly started using Turnitin. In my f2f classes, I loved my writing workshops and wasn't sure in using PeerMark would suit my students' needs. For what was key was setting up the questions students were asked to answer when they read and gave feedback on each others papers. I believe the questions I have them use asks for specific concepts/ideas inherent to the assignment and to what learning outcomes they will be graded on. Generic questions or questions in "teacherly" lingo don't work well in my experience.
For my RWS 305W at SDSU and Eng 100 at MC, my students first paper is a memoir/narrative. It helps build a writing community, gets me to my students and their writing. I work a lot on topic selection, narrowing their topics, being specific, using concrete details, and understanding at prompt and audience. I also, though out this, get them to think about how these concepts apply to their academic papers as well. Here are the PeerMark Questions I have my students answer for the papers they review.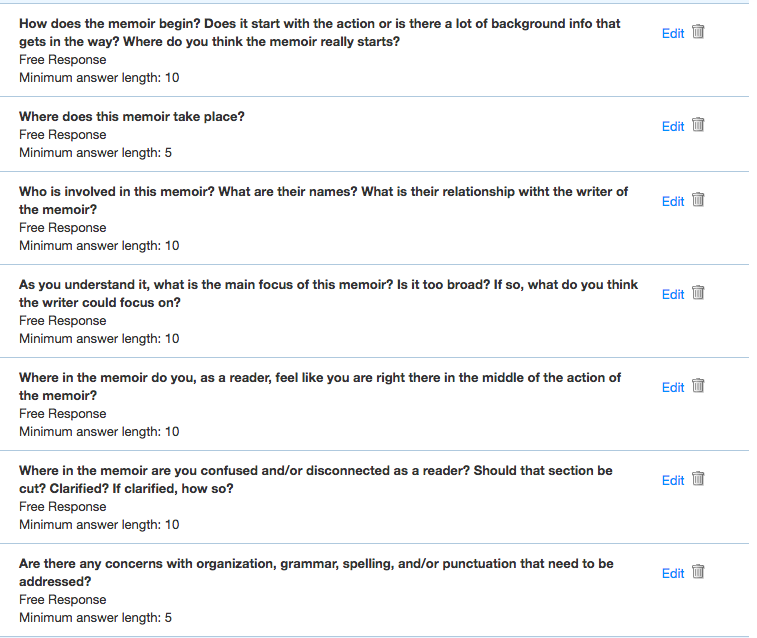 I have to say that I still miss my writer's workshop in my f2f classes, but I have been very happy with PeerMark overall. Students like it, too. What I found most surprising is that my students have told me on many occasions how reading and responding to other student papers helped them to rethink their own paper. Of course this is music to my ears!
Canvas
I am using Canvas for the first time this semester after going to a couple of workshops and took one of the online courses. I think I will like it better than blackboard. Again, I am keeping it simple. I organized it similarly to my Bb but I am sure that will change over time. I am not using Turnitin and am trying the Canvas assignment peer review. Still getting used to it. I am playing around with creating pages but have not ventured in to html (so scary!) Here's one of the pages I created for my second paper in Eng 100.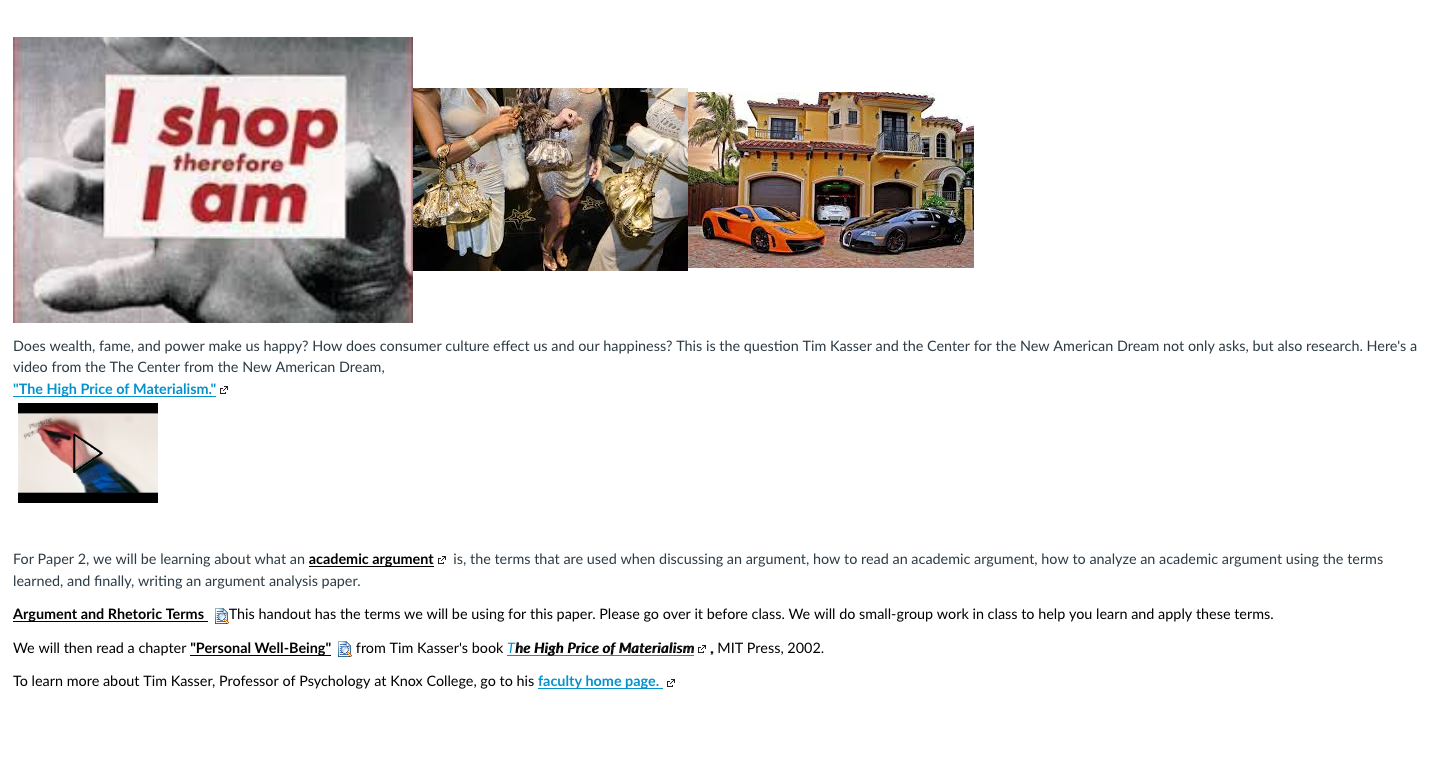 Blogs
I have my juniors and seniors in RWS 305W create a blog. I have not done this yet with English 100 at MC. I used to let my students pick their own blog platform, but that was hard since I didn't know all of them. Since last semester, I am using edublog since it is free and it's the educational version of wordpress. RWS 305W is an upper-division course and as its title says, "Writing In Various Settings." Students are asked to write a blog about something they are interested in.  I also blogged with them this semester so I could get to know the ins and outs of edublogs. Here is my blog--which has the assignment and posts about troubleshooting.  I also did zoom videos during the semester on how to create your background, reorder your posts on the free version, and the like.
Here are some of my student blogs from RWS 305W
I don't think that I would have my freshman create an open-ended blog like this for many reasons. I have had my freshman post their papers on a class blog for their final paper. Here's the link so you can see it. I liked having them post it since we were writing about technology, but I wish I could link it up to Speed Grader.
I don't think I would use a blog for an entire class site. I really like having the features built in to a CMS like Canvas and Blackboard. Plus, while I am digitally curious and willing to try new stuff, I don't want to overwhelm myself nor my students. Right now I can't even log in to our blog Writing with Machines nor figure out how to post my profile pic and pics on my post.
Baby steps…..
Thanks for letting me share this with you!
Cara