Unit 5 Reading and Discussion.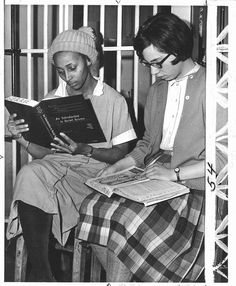 Reading is important. As much as I think of my classes as writing classes, they are, in fact, reading classes as well. When I first started teaching, I would assign four essays on a topic, and then expect my students to discuss it in class. Boy, that did not work. Students could give their opinion on the topic–say immigration or gun control, but discussing the readings didn't really happen. Luckily, I was fortunate to be invited to the Collaborative Academic Preparation Initiatives (CAPI) Summer Institute in 2003, which morphed into Reading Institute for Academic Preparation (RIAP) Summer Institute in 2005. The basis of the work in both of these summer institutes was reading–more precisely working with texts. It really gave me some tools to help my students learn to read college-level texts well enough to write about them.
I learned to slow down and really work on one reading at a time helping students understand what they read. The big push was "Charting the Text." This was used to help students (and ourselves!) understand what the text was saying and doing. Part active listening (saying) and part teaching the writer's craft (doing). I was hooked. In my classes, students not only understood the readings better, we also got to talk about what the writer was doing–his or her craft Or as the RWS Department calls it, rhetorical strategies. Why does she begin her essay with this story? Why does he use this quote here? This gave students tools for thinking how to write their papers.
I went on to be a mentor teacher for the English Department at Santee High with English Curriculum Alignment Project (ECAP) from 2009 to 2012 through SDSU/Grossmont Union High School District project. The English teachers at Santee and I worked on Assignment Sequences that brought in an expository texts to work with their literature curriculum. For example, several teachers were using Romeo and Juliet in their classes. We found a fabulous essay about love versus infatuation (I wish I could remember the title!). We created an Assignment Sequence that worked through both the play and the essay leading up to a paper where students had to argue whether or not, Romeo and Juliet were in love or infatuation.
I digress. Back to Warnock and reading. Chapter 7 "Readings: Lots of Online Options, But the Book Is Not Dead."
Guideline 18 & 19
For years I have put together a reader through the SDSU and MiraCosta bookstores. It's less expensive ($20-$30) and we use all of it in class. AND, both bookstores take care of all the copy-writes. When I started teaching online at SDSU last summer, I had students all over the place, Germany, Seattle, …. How could they buy a reader that was only at the bookstore on campus?
I put my readings on Blackboard– Some were online, so I put the links. I also made printable PDFs of each (took out the pics, numbered the paragraphs).  While I liked the online version so they could see the essays in their original forms,  I wanted them to be able to print them up easily. I agree with Bentley! I read much better with the reading on paper in my hand. I also put all my handouts online.
"How do We Know They Have Read" (63)?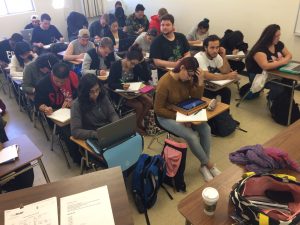 Roll questions (f2f classes) I use roll questions for attendance. Sometime it's something general, "Favorite place to eat." When readings are due, I ask a roll question like, "What is your favorite quote from the reading and why?"
Not only do they know they will be accountable, but reading quotes from the reading at the beginning of class allows us to listen and think about the  reading before we start. (Thank you Marla Williams for sharing your great idea of Roll Questions!) Now–how to do this in an online class? I don't know and I am open to suggestions.
Quizzes Yep. Online. Like my friend in the Art Department at MCC, Gracie Adams, quizzes are leaning tools. So I give them multiple attempts. I want them to learn the material.
Discussion Board Homework. More on this later.
Student Led Class Discussion/Reading Presentations/Charting the text (f2f).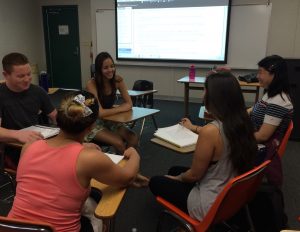 Honestly, I got bored and frustrated with the traditional charting that I learned in the CAPI and RIAP Summer Institutes. I had to make it work for my class, teaching, most importantly, my students. I started Student Led Class Discussions which is a form of charting done in small groups and are presented to the class (the group leads the discussion of their section of the reading). So for example, for reading Mark Slouka's "Quitting the Paint Factory," students were assigned groups and each group was assigned 3-6 paragraphs. Then they had to do the following first individually as homework, and then together in class with their group:
Instructions for Student Led Class Discussion/Reading Presentations
Student Led Class Discussion/Reading Presentations: You will be put in a group and will create a reading presentation for the class and lead the discussion on your assigned paragraphs.

What you need to do for your Group Reading Presentation:
Explain each key term in your section (for example materialism, narcissism, etc…)
Explain each person mentioned and/or quoted in your section. (for example Maslow, Ryan, etc…)
Explain the key ideas of each paragraph assigned to your group.
Indentify claims and  sub-claims (if any).
Come up with two things Kasser is doing as a writer (strategies/rhetorical strategies).
Answer any questions other students may have about your section.
You can organize your presentation in a way that makes sense for your your group. Each person in the group my speak during the presentation.
Group 1–>Paragraphs 3-7
Group 2–>Paragraphs 8-12
Group 3–>Paragraphs 13-16
Group 4–> Paragraphs 17-20
Group 5–> Paragraphs 21-23
Group 6–> Paragraphs 24-29
I have yet to translate this to my online classes, but I have a few ideas. I know a friend who has students write a wiki entry (on Bb following the guidelines of the wiki genre). That way, students from the class can access them. I am open to suggestions!
This is a nice segue to Warnock's Chapter 8 "Conversation Online Course 'Talk' Can Become Writing."
You probably know by now that I love using Discussion Board. in my I've used discussion boards with my f2f classes for years, but in my f2f classes, we also had class time for discussing ideas as a class or in small groups, time to write, ask questions, etc….This is what I feel is missing in my current online class. There is a gap here that I need to think about.
Guideline 24: "To get the most out of your message boards, make sure your instructions and expectations are clear and detailed."
Warnock is correct that this is extremely important. Not only is it on my syllabus, but I remind them in each discussion board. I also found that I explain the purpose of the discussion board–the purpose of this discussion board is to make sure students understand key ideas from the reading before moving on o writing the essay, or the purpose of this discussion board is to help you come up with a topic/write your rough draft, etc…
DB HW #9 "Brainstorming topics for Paper 3: The Lens Paper" (Eng 101 f2f MiraCosta Sp 2018)
The purpose of this homework is to help you work through a topic or two to see if it works. It also gives you the opportunity to read other student topics and get feedback on your (if you post early).Post a pic of your artifact.1. Explain in a paragraph your artifact (what you are going to look at and analyze). Be specific.2. Explain briefly how you would apply the lens to your artifact. Does your artifact encourage narcissism? How or how not?

2. List three-five quotes from Kasser that you are thinking to use.

4. Explain what you want to get across to your audience. What are the main points you want to make?

As always, you need to read and respond to three student posts for credit.
Students are drafting parts of their papers on discussion board as well as giving and receiving feedback in the process. I leave all discussion boards up during the for the full semester so students can go back if they want to use something from discussion board in their papers.
I post exemplary student posts for others to see (even though they can see it on DB). I did this at the beginning of the semester, and the student whose work it was emailed me, "Wow! This just made my day. Thank you!! Stephanie"
She later told me during office hours that she has never felt she was a good writer, and that my posting her work made her feel like she could write. That made my day, too.
Bye for now. I look forward to reading your posts.
Cara