What other forms of expression can we teach now that the essay template is so easily reproducible?
What will happen to the struggle and the joy we experience as writers throughout the processes of composition?
What deep places can we expect our students to reach and what opportunities for deepening understanding of ideas, concepts, and content will we gain?
How are we–us and our students–giving up autonomy and agency to AI content generators to think and speak for us?
These are a few of the questions that emerged from our first discussion on teaching, composition, and new generative AI technologies like ChatGPT. We also collected a range of interesting sources and a cool AI generated image of MiraCosta College set in the dystopic future!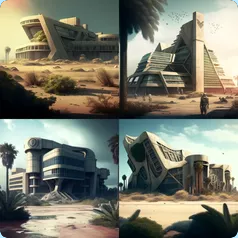 To listen to our convo, check out the Zoom recording or the podcast
All content shared and perspectives we discussed are collected in a Padlet.
Our next discussion will be Feb 22nd, where we will discuss other technologies in history that have shifted the way writers process and produce texts. We will be responding in part to Nova's A-Z: How Writing Changed the World(watch via MCC Library). You do not have to have watched the doc to participate in the conversation. Hope to see you then to explore Surfaces, Tools, and Affordances of new writing technologies.