How can simple weekly announcements be designed as effective expressions that engage students in discovery and decision making within the dynamics of our courses?
Watch or listen to Explode the Weekly Announcement, A WritingwithMachines Discussion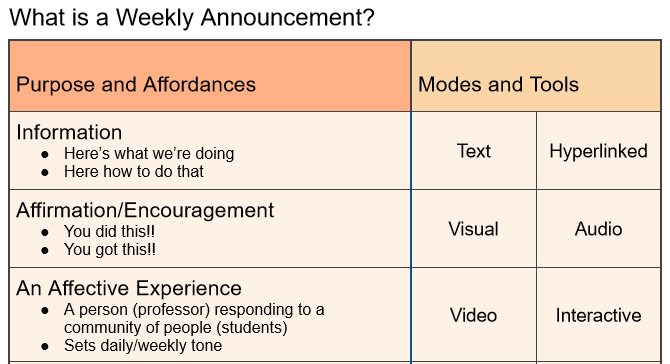 Your time listening/watching is eligible for FLEX.

This discussion is the first of a sustained series focused on our Online Teaching Principle for Communicating with Students. At the center of this deep-dive project, we're asking this question: how do our communication tools, spaces, and methodologies promote student growth and student agency?
Our next discussion will take place December 1st, 12:30-2:00pm, in Zoom. We will review different 3rd spaces–platforms like Discord, Pronto, and cafe style office hours–that involve students in the culture of our courses: how cultivated 3rd spaces encourage students to lead, self-advocate, and shape a community of readers and writers.
Thanks for contributing, colleagues!