Hello all! I can't wait to interact with everyone's ideas this week!
Ever since I started teaching online, I began to change the way that I provide feedback to students in my onsite classes for the better. I truly believe that when you teach online you become a better onsite teacher! I used to provide feedback using Canvas or the Turnitin system in various learning management systems to leave notes in the margins of students' papers and longer letters to them. Basically, you can leave track changes or comments just as you would in a Google Document in almost any LMS these days. I used to like the Turnitin system many years ago because it had many go-to templates saved that you could easily insert into students' writing that would also provide them with additional reading, examples, and resources. However, my own beliefs about Turnitin have changed over the past few years that I have formally studied plagiarism, and I no longer use the system to provide feedback. However, I believe that technology has changed my feedback practices and philosophies for the better. Some tools that I have used include typed letters, screencasts, and audio feedback.
In my onsite classes, I mostly provide feedback to students in the form of a typed letter that I e-mail to them and ask them to print out along with the scoring rubric. I have a very fast typing speed (I am a pianist and played Mavis Beacon for hours upon hours as a child), and I can provide end or global comments very quickly by typing. As Warnock (2009) explained, students often like typed comments over hand written comments because they might be hard to read. Admittedly, my handwriting is not the best, especially when I am trying to limit the amount of time I spend responding to writing. Students also receive some hand written notes on their drafts, but for the most part I refer to paragraph numbers and pages in my global remarks to them.
In my onsite and online courses, I also make an effort at least once in a semester to provide voice comments or screencasts. I do find that leaving voice comments and screencasts takes me longer than typing comments, but I like to expose students to both types of feedback (typed and audio). Then I often let them try both types of feedback with classmates in an online peer review (in onsite and online courses). Voice comments and screencasts take me longer because I still need to think about what I am going to say before I start recording. When I write, I am more easily able to process my ideas. Writing to learn is a writing threshold concept that most everyone can relate to. However much I like typing my feedback, I understand that many students are both auditory and visual learners (as am I). Thus, screencasting is one of the most informative ways to provide feedback to students that I have found. The ability for students to listen to my commentary as they see my cursor moving across their writing mirrors what we would do together in person. I have found that students enjoy using screencasts in online peer reviews, and really value the detailed feedback that they receive. I typically have students use the free version of Screencast-O-Matic to record and upload their screencasts. I also provide a video tutorial about how they can use the free version, and they can see my face down in the corner as I am explaining the tool to them. I know that many of the colleges I teach at offer other screencasting programs in the library for free, but I like students to try out the free version of Screencast-O-Matic so that they might use it again as a resource in the future off campus. By the way, when you use the free version of Screencast-O-Matic and you save your video and try another one the program threatens you that your old video will be deleted if you use the free version again. However, it is a lie. Just click the yes button, and you can use the free version as many times as you like for up to 15-minute videos. There is a small watermark in the corner on the free version, but it in my opinion it is not distracting to students or wider audiences. I attached one of the tutorials I have made in the past at the end of this blog post.
When I first began teaching English language teaching certificate courses online, I sent each student a personalized e-mail with feedback on their discussion forum responses during week 2. What I realized from providing such feedback during week 2, was exactly what Warnock (2009) argued when he wrote about the importance of responding to students a lot in the beginning of the course. I find that when I spend plenty of time during the second week providing typed feedback to students I see higher quality writing throughout the course on discussion forums. The same holds true for onsite courses that I teach although I have different weights for discussion forums in online courses as compared to onsite courses. Like Warnock (2009) advocated, I also require much more weekly work on discussion forms in online courses than I do with onsite courses.
Finally, when I write feedback to students about their discussion forum responses via the form of an e-mail I am very careful to integrate my thoughts about the score by also referring to my scoring rubric. I might say something like the following: You are doing a great job talking about your personal teaching and learning experiences in relation to the question, which meets the criterion 4 and 5 on our scoring rubric. However, I would like you to carefully integrate quotes or paraphrases from our weekly readings and video lecture with page numbers or a time stamp (see my example responses in week 1) in order to meet criterion 2 and 3 on the discussion forum rubric. I'll share that rubric below so you can see what I am talking about here in more detail. Then I go on to provide an example of what I mean for students so that they can actually see what I mean by connecting to their prior experiences or integrating a source. I most often have students write me back in the same day to ask further questions, or confirm that they have understood my suggestions to them and will try to implement them in the next week. As Warnock (2009) recommended, I then respond to students to always get the "last word" in e-mail conversations. I have found that always having the last word does help to develop a much more robust relationship with students in online and onsite courses.
Discussion Form Rubric Example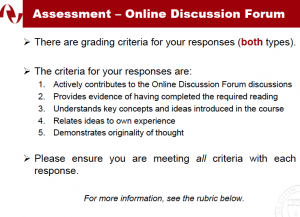 Tutorial of Online Peer Review Using Screencast-O-Matic
Resources
Warnock, S. (2009). Teaching writing online. Urbana, IL: National Council of Teachers of English.